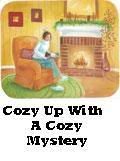 It's brrrr outside in Northern California (and I know it's even colder where some of YOU are!), so let's curl up in a warm blanket with a cup of our favorite hot beverage and cozy up with a good mystery, shall we??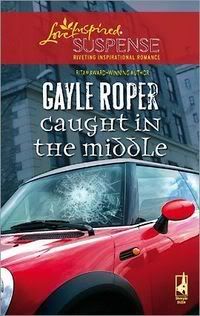 My first pick is a favorite that has recently been redone. Gayle Roper has a hilarious heroine in Merry Kramer. After a horrid breakup, Merry moves to Amhearst, Pennsylvania to begin fresh. New home, new job...new life, right?
But when Merry gets "Caught in the Middle" of a mystery, she begins to wonder if she's lost her good sense! After all, she was only fetching a 12 pack of Diet Coke from her trunk when the body turned up.
Who put the body in her trunk? And why does everyone she talks to think she knows who he is? Does the murderer think she saw more than she claims, and is that why he or she is trying to kill her?
I found this cozy way back in 1997 when it was first published...and then it went out of print. But Steeple Hill has reissued it with new edits and a new cover, all under their Love Inspired Suspense banner. Gayle creates unique heroines with a hint of humor and a smidge of ditz...and Merry fits the bill!
Plus, there's ALWAYS a strong, handsome Christian man waiting in the wings to try and save the heroine, and Curtis Carlyle fits that bill as well. Unfortunately for Curt, Merry isn't exactly EASY to protect or rescue!
This cozy is perfect for our first review, and I'm giving "Caught in the Middle" four out of five bookmarks, with a tiny crowbar in a lilac bush as a charm...which you will TOTALLY get once you pick up your own copy and read it...which I just KNOW you'll do, right?!?
This is the first book in a series, and if we have time I plan on reviewing more of Merry and her not-so-merry adventures. Till then...
Happy Reading!
Deena