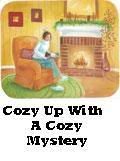 As we wrap up January, we wrap up our Cozy Mystery reviews. Now, I know it will still be cold outside, but all good things must end in order to make room for more good things to come! Still, I had to slip in one more cozy read before we move on to other things...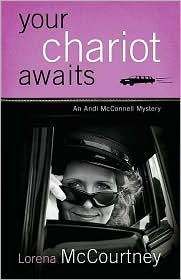 I have always enjoyed a good cozy by Lorena McCourtney. I was a fan of her Ivy Malone series (although the last book didn't quite do it for me), and I'm an even bigger fan of her newest series!
"Your Chariot Awaits" is the first in the Andi McConnell mysteries, and it starts of with humor and charm. Andalusia, or Andi, has just been pink-slipped, broken up with her beau of four months, and is about to turn sixty...can life get any worse or more complicated?
Apparently, yes, it can! Her nutty Uncle Ned has left her a limousine...a sleek, black stretch limo with bullet proof windows, complete with uniforms and a maintenance manual.
Too bad only the windows are bullet proof! Just when Andi decides maybe there's a business to be had with this unusual inheritance, her former beau shows up in her limo trunk...deceased.
Who did it? And can Andi uncover who and why before the police try to pin it on her? With Fitz, a former TV private eye by her side and Joella keeping the prayers going up, Andi struggles to find out who killed Jerry before the killer can strike--quite possibly at her--again.
Written with wit and humor, "Your Chariot Awaits" is unique in concept and delightful in style. Andi may be 60, but I'd love to run around with her and try to keep up! And Fitz...well, he just "fits" in with Andi:-) Joella is adorable in both her personality and in the persistent way she shares her faith.
I'm looking forward to many more adventures with Andi and company. I'm giving "Your Chariot Awaits" five out of five bookmarks, with a set of keys as a charm...and always know where your keys are! If you don't...then do NOT let the cops check your trunk!
Happy Reading!
Deena