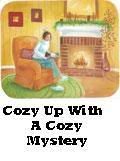 We just weathered a HUGE storm that still has some friends and family without power, and it's now four days...so I most definitely think it's time for another cozy review, don't you.....
This is one of my favorite cozy mysteries, by one of my favorite cozy authors. Ginny Aiken writes with humor and wit, and her heroines feel like my best friends. "Design On A Crime" is a unique series concept that really works!
Haley Farrell is about to step out on faith. Newly armed with her design certificate, she's planning on starting her own business. But when her mentor turns up dead, Haley has her sleuthing hat on quicker than you can say "Nancy Drew"!
Who in the world would want Marge dead? And why is Haley considered the prime suspect? Will she be able to get to the bottom of this crime before the murderer has designs on her as well?
Her partners in mystery are such fun! Bella, her next door neighbor and Columbo wannabe is hilarious and so easy to love. Haley's father is so warm and supportive, and Dutch is...well, Dutch.
Then there's Detective Lila Tsu...a thorn in Haley's side? Or an ally Haley desperately needs? While this is a fun read, there's a serious side to the story that takes your breath away and puts you right in the heart of an issue that touches more lives than you'd think.
All in all, I can't think of another cozy mystery series that I'd recommend more highly. Right now there are three volumes out in the Deadly Decor mystery series...and I'm wishing for more! But, I don't know what Ginny has planned.
I have another series by Ginny Aiken I'm planning on trying out...I'm just waiting on book #1 to arrive! Till then, I'm giving "Design On A Crime" five out of five bookmarks, with a hammer as a charm...so be watching out for designers hunting down murderers!
Happy Reading!
Deena
P.S. Don't miss out on our first
Cozy Giveaway
! I'm giving it away on Friday, and announcing a new giveaway as well!