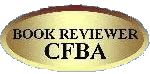 This week, the

Christian Fiction Blog Alliance

is introducing

Happily Even After (#3 - Sassy Sistahood Series)

(Steeple Hill January 1, 2008)

by

Marilynn Griffith
ABOUT THE AUTHOR:
Marilynn Griffith is mom to a tribe, wife to a deacon and proof that God gives second chances. While best known for her colorful novels about friendship, family and faith, Marilynn is also a speaker and nonfiction writer.
Her nonfiction has been included in CHICKEN SOUP FOR THE CHRISTIAN WOMAN'S SOUL and several other devotionals and magazines. Currently, Marilynn is editor of the SISTAHFAITH:BELIEVING BEYOND SHAME anthology. She is also the founder of Faithchick.com, a blog for faith fiction readers.
Marilynn is the author of six novels dealing with issues such as teen pregnancy, AIDS, abstinence, stress relief, single parenting and marriage. Her recent fiction titles include TANGERINE and IF THE SHOE FITS.
Marilynn has served as Vice President and Publicity Officer of American Christian Fiction Writers. She speaks to youth, women and writers about believing beyond boundaries and daring to reach dreams.
Marilynn lives in Florida with her husband and seven children whom she taught at home for seven years. When not chasing toddlers, helping with homework or trying to find her husband a clean shirt, she can be found scribbling furiously on her next novel.
To book Marilynn for media interviews, speaking engagements, Serious Fun fiction parties or book club call-ins, please contact her thru her WEBSITE.
ABOUT THE BOOK
Superwoman doesn't live here!
I marry a gorgeous executive, have a baby, lose all the weight (most of it), and move to a fine house in the suburbs with a welcoming new church. Wait...did I say welcoming?
One teeny waaah! and new mothers and their crying babies are exiled to a separate room. At least there's some enlightening conversation. Like about my husband and issues I didn't even know about!
And then there's my aptly named mother-in-law, Queen Elizabeth, who can't stand me.
I'm about to lose my mind! So it's high time for a visit to the Sassy Sistahood for some much-needed advice about men, marriage and motherhood!
The Sassy Sistahood: They get by with a little help from their friends.
MY REVIEW: I must admit, nothing frustrates me more than jumping into a series mid-series. So, I hesitated to read "Happily Even After" without reading the first two books first. But I'm a good girl, and I keep my commitments; I gritted my teeth and dove right into book three...
...and found a delightful reading experience!
From the back cover: "Superwoman doesn't live here." Oh, how I need to remember that! And so does Tracey Blackman, our heroine of this story. Tracey is a new mom, a still fairly new wife (she got pregnant on her honeymoon), and now a new...well, you'll just have to read that part.
She struggles with her weight, her self-acceptance, her worth as a wife and a mom, and her worth as a woman of God. And her mother-in-law doesn't always help much (thank You, God, AGAIN for MY mother-in law!). Queen Liz might mean well, but her ends don't always justify her means--or something like that.
Topping it off, looks like Tracey married a true momma's boy. This book will change the way I relate to my son, in honor of HIS future wife (he's almost 14...I've still got time!).
I encourage you to join The Sassy Sistahood...a fun and encouraging group of women you'll end up wishing lived next door to you. Marilyn Griffith is a wonderful author and I'm sure an even better friend, and I'm giving "Happily Even After" four out of five bookmarks, with a diaper bag charm (no poopy diapers included!).
Now, I'm off to find books one and two...I've gotta finish this series--because that's just who I am...and I sense their might be a book four!
Happy Reading!
Deena