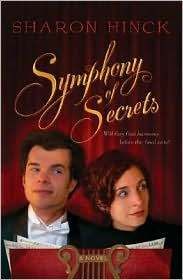 I must admit, this is NOT my favorite Sharon Hinck novel.
However, that's like saying I like peanut M & M's over plain ones:-) I enjoyed it, just not quite as much as her previous writing.
It's difficult enough to be a single mom of a teenaged girl. Add into the mix the creative temperament of a symphony musician, and the difficulty escalates into the stratosphere.
Unfortunately for Amy Johnson, flutist and aspiring symphony member, she had to put her own dreams on hold while raising her daughter Clara. Teaching music lessons and performing the occassional wedding/party with her best friend, Lena, just isn't satisfying enough.
And with her heightened sense of hearing and eye for detail, Amy also has the uncanny knack of discovering crimes...that haven't happened. With her daughter growing into her own person, her one shot at symphony work staring her in the face, and her best friend's new found faith in God in her path...what will life hold for the dreamer mom?
The characters are loveable--I adored Clara! But the mother/daughter relationship is so out of balance it left me feeling bothered. I just didn't really like Amy very much at all...and she was so real, I felt guilty about it:-)
Plus, the symphony life is such a unique world that I often felt lost amidst the details. But, Sharon has most definitely done her homework, and each chapter opens with a clever use of a musical notation or term. I wouldn't be surprised to discover that Sharon has some latent musical talent after reading this story!
Still, I've read everything by Sharon I could get my hands on, and I think I'm just a little bit spoiled. Up until now, it was almost as if she had read my journals and then wrote about an unknown twin sister of mine! Didn't feel that connection in this one, which was a little disappointing.
Overall, I still give "Symphony of Secrets" four out of five bookmarks, with a conductor's baton as a charm. While it wasn't my favorite, it is VERY well crafted and a unique reading experience in a highly positive way. "Symphony of Secrets" releases February 2008 from Bethany House!!
Happy Reading!
Deena