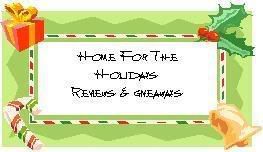 Day Nine, and I'm not out of Christmas reviews yet! Our selection for today's Twenty Five Reviews of Christmas is unusual, but a real treat!
Tired of all the attemts at politically correct holidays? Wishing people would just leave Christmas alone and get back to the true message of the season?
You're not alone!
Randy Singer's Christmas novella, "The Judge Who Stole Christmas" is the perfect introduction to his legal novels, with a bit of a Christmas twist that, in the end, satisfies like Aunt Ruth's fruitcake never will:-)
Possum, Virginia is a sleepy little town that minds its own business and does things its own way. Nothing much exciting happens in this little town...until Christmas rolls around one year.
Thomas and Therese Hammond play Joseph and Mary every year in the town's annual live nativity scene, and they do so with great faith and great joy. But this year someone has taken note and NOT in a good way.
When the judge hearing the case rules the nativity unconstitutional, what will Thomas do? Will he obey the laws of men, or of God? And what price will his family pay this Christmas?
Caught up in the courtroom and Christmas drama is law student Jasmine Woodfaulk. Her job at legal aide gets her assigned to Thomas' case...a mistake? Or a blessing in disguise?
This little book is packed with surprises and moments of great and humbling faith, penned by an author who knows his way around a courtroom! I'm a HUGE fan of Randy Singer's books, and I'm sure you will be too once you've sampled his work in this Christmas novella!
I give "The Judge Who Stole Christmas" five out of five bookmarks and award it the "Best of Holiday Fiction" award...with a tiny coach's whistle as a charm. Wanna know why?
Then put "The Judge Who Stole Christmas" on your wish list! Enjoy!
Happy Reading!
Deena