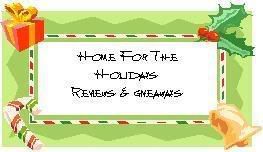 Now, let's be honest here, shall we? Isn't this more fun than an advent calendar to count down the days to Christmas? And lo-calorie as well! I'm serving up another non-fiction title that you will most definitely devour, although most likely not in one sitting...
Rhonda Rhea is today's Erma Bombeck...only funnier in my opinion! She has authored several books, but one of my favorites is "I'm Dreaming of Some White Chocolate"...can't you just picture a female grinch behind that glove??
Amidst the Christmas season there is stress...especially for a woman with five kids (no, not ME...Rhonda!). With her typical humor and turn of a clever phrase, Rhonda gives us time to slow down and savor each morsel of this delicious holiday season.
Divided into six "devotional style" sections, even the titles are designed to make you chuckle: "Jungle all the way", and "Hurrah For Fun, Get the Ministry Done" are just a couple of them.
Each section is designed to not only make you laugh, but to make you think and reflect on the meaning behind this Christmas season we celebrate. With Scripture and meditative quotes, Rhonda has penned a winner in this one.
I give "I'm Dreaming of Some White Chocolate" five out of five bookmarks...with a tiny white chocolate truffle as a charm...calorie free and non-edible, just in case you get hungry!
To read more about Rhonda's books, click
here.
Happy Reading!
Deena