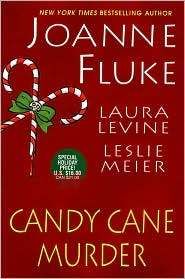 Even when it's just part of an anthology, a story by Joanne Fluke is simply delicious! "Candy Cane Murder" is a holiday treat in a trio of Christmas whodunits that makes solving murder...well...FUN!
Hannah Swenson is playing the role of her not-so-perfect life...a holiday elf, courtesy of her niece Tracy. When Santa shows up with laryngitis, Hannah quickly creates a story for the children, and all is well.
Until Santa...I mean, Wayne Bergstrom, turns up dead in a snowpile. Who killed the owner of the most popular department store in Lake Eden? Was it his ex-wife, current wife, or one of the many people Wayne ripped off?
Hannah is on the case and in the kitchen with some yummy holiday recipes. I loved this one, only wishing it was a full length Hannah Swenson creation! I'm giving "Candy Cane Murder" five out of five bookmarks, with an elf's pointy boot as a charm.
Included in this holiday murder anthology are stories by Laura Levine and Leslie Meier (first one--haven't read; second one--adore her stories). Enjoy this triple treat, and Merry Christmas!
Happy Reading!
Deena