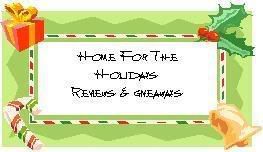 Day Three, and we're still on a Christmas roll:-) This little goodie is also a new story for 2007, and is a sweet tale about a Christmas tree...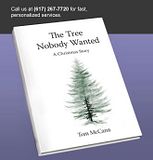 This little novella is a sweet story about a man's fond memories about his childhood Christmas tree. Part "Charlie Brown Christmas", part "The Giving Tree", it's the perfect book for someone who feels unwanted or lonely this Christmas season.
Living with his grandmother, the boy goes to the tree lot on Christmas Eve, knowing the trees that are left are abandoned to whomever comes by. Faced with a choice of three trees, he chooses the one that no one else would want.
He takes it home, does some creative decorating, and turns it into a tree worthy of his Nana. Once Christmas is over, he doesn't have the heart to just throw the tree out. What he does is beautiful and sentimental, and leaves a legacy of memories for generations to come.
My only issue with this book is a statement about all living things having memories and feelings...while great sentimental speculation, it isn't true, and hints a little at pantheism, which I'm sure the author did not intend. But, I wouldn't be a good reviewer if I didn't point it out.
All in all, I found this a sweet story that has a powerful message of love and inclusion to those who feel forgotten and downtrodden in life. I'm giving "The Tree That Nobody Wanted" three out of five bookmarks, with a star as a charm.
Happy Reading!
Deena
P.S. My apologies to all who left comments here...but this one is not a part of the giveaway. I'm posting Christmas book giveaways each Friday...every review is NOT a giveaway. I ALWAYS put "giveaway" in the post title so you know to enter.
I am SO sorry for the misunderstanding:-(