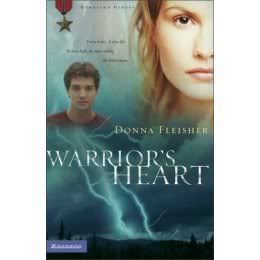 Feeling rested and refreshed, I finally picked up a copy of the second book in the "Homeland Heroes" series and it quickly became glued to my hands.
In other words, I couldn't put it down!
Be warned, if you haven't read book 1, you may run into a few spoilers in this review...
Chris is still at Kimberly Square, much to Erin's relief and Scott's consternation. He has promised to try to get along with Chris, but he isn't trying very hard. To him, Christine McIntyre is a magnet for trouble, and his precious wife Erin is nothing more than magnetic shavings in her path.
But Chris is trying out her new found faith and working through her salvation with fear and trembling. Letting go of the old and embracing the new isn't as easy as it looks.
Especially when your past comes calling...
A storm is raging in the northwest, and many are left feeling vulnerable and in need of help. When Ben assigns Scott and Chris to the same rescue team, he wonders if it was wisdom or foolishness that promted him.
But the storm that rages on the outside is nothing compared to the one raging inside Scott's heart...question is, who will be the unwilling victim of THAT storm? Will it be Chris...or Erin??
This volume of Chris' story isn't quite as intense as the last one, but there are moments when your eyes are so full of tears you can barely see the words.
I'm sure most of us have had moments of being misjudged by someone. But I know what it feels like to be misjudged, and to wonder if maybe they're right...
Chris is so full of self-doubts that Scott's criticism of her is often well received in her heart, which creates conflict and struggle that really shouldn't be in her life. But I had to admire Scott's love for Erin, even if it's evident that he needs to trust in God more.
Again, this novel comes to an explosive and inspiring close. The redemptive power of the gospel permeates these stories, and I am so thankful that Donna followed God's lead and wrote these books.
I give "Warrior's Heart" five out of five bookmarks, with a rain slicker charm...
Keep watching for more reviews on "Homeland Heroes"...we have two more books to go, and Donna and I are cooking up a special November event you WON'T want to miss out on!
Happy Reading!
Deena