About The Author:
Amy Grant is the best-selling Christian music artist of all time and the first to garner the number one spot on Billboard's chart. Since beginning her career at age 17, she has earned six Grammy Awards and twenty-five Dove Awards, and last year she received her own star on the Hollywood Walk of Fame. Grant's numerous television appearances include Oprah; Good Morning, America; and Late Night With David Letterman. In 2007, she'll tour nationwide performing with local symphonies in Atlanta, Minneapolis, Kansas City, and elsewhere.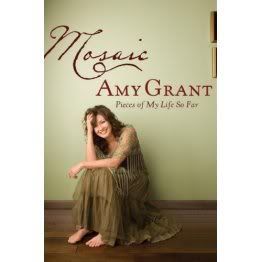 About The Book:
Grammy Award-winning artist Amy Grant has lived in the spotlight since bursting onto the Christian music scene as a teenager thirty years ago. In that time her work, marriage and spiritual life have been subject to varying degrees of adulation and criticism.
Now, in her first autobiographical book, Grant bares her heart and soul, giving readers an intimate glimpse into her everyday life and the lessons she's learning along the way. From lighthearted reminiscences of her Tennessee childhood to painfully honest reflections on the journey of faith, her vivid writing draws readers into her world while simultaneously creating space for them to rethink their own perspectives on life.
My Review:
When I stop to think about the fact that I get to read books and review them, I'm amazed. But sometimes a book comes my way that I'm asked to read and review, and I'm humbled.
This is that kind of book.
I remember Amy Grant from my days at church camp. I grew up in a very legalistic church, so contemporary Christian music was forbidden. So a copy of "Age To Age" was considered contraband. And Amy was all I knew about contemporary Christian music until I met my husband.
So to have the honor of reading and reviewing her book....wow.
Amy Grant's book, "Mosaic", is just that. It is bits and pieces of her life's journey, combined with lyrics written by her (some co-written). There is no rhyme or reason to it...no timeline.
Imagine you've been going through the attic with your sister, or your best friend. You stumble upon a box of old pictures and memorabilia and begin to go through the box together.
You take it downstairs, put on a pot of coffee, and together you take each piece out and exclaim "Oh, I remember this!". And then you tell the story of that picture or that old corsage, or old newspaper article.
That is what reading this book felt like to me. Like Amy was letting me see the woman behind the music, and we were going through old photographs...only, in her case, they were songs.
And a beautiful mosaic is the result. Ironically, to make a mosaic, you have to have bits and pieces of something else...usually something that was once whole but has been broken or shattered.
Living her life in the public eye, Amy has had her moments of being broken and shattered, and she shares some of them. The passing of loved ones, the illnesses of others, and the break up of her first marriage, then subsequent marriage to one of country musics superstars.
Some of the most beatiful stories are about her uncle, whom she never met. He died before she was born. And of Vince Gill making a surprise call on a fan of his, Miss Dorothy Lee.
But I believe the story that touched me the most was her story about being re-baptized in a spontaneous moment. All of the baggage she'd carried from her separation and divorce, the criticism and scrutiny and what that created in her...was washed away in that one moment. A gorgeous picture of God's forgiveness and being washed daily in His Word.
"Mosaic" is more reflection than biography. It reads like conversations with a friend, and allows the reader to get to know Amy Grant more intimately. I would give this book five out of five bookmarks. "Mosaic" would make a wonderful gift this holiday season, either for a fan of Amy's or for someone struggling with their own Mosaic of life.
To purchase a copy of this book, click
here
.
TO WIN ONE OF THREE COPIES, leave me a comment. I'm picking THREE winners on October 31st!!!

Happy Reading!
Deena