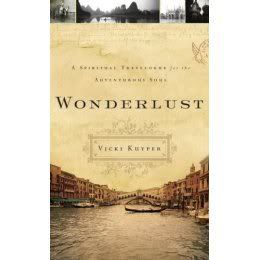 I receive several requests each week to review books. Sometimes, I feel buried under the mounting pile, and I don't accept each and every request anymore. So, when I was asked to review this new release, I almost said, "No thanks."
I'm SO glad I didn't!
"Wonderlust" is subtitled A Spiritual Travelogue for the Adventurous Soul. Now, I wouldn't call my soul adventurous, but I do like to dream. Vicki Kuyper likes to travel and to write about her travels, which makes us a great pair!
In her book, Vicki takes us from the mountain peaks of Colorado to the Killing Fields of Cambodia; from the heights of worship to the valleys of loss and rememberance.
Each journey is combined with a spiritual truth learned on that particular journey. I previewed Vicki's book by reading some other reviews. One reviewer criticized this book for the very thing I enjoyed about it most.
While most definitely a travelogue, the journey I most enjoyed was the spiritual one. Vicki is careful to include details of each locale, but it is easy to discern that her focus is what God is teaching her, and ultimately us, through His magnificent creation.
A perfect blend of scenery and inspiration, I give "Wonderlust" four out of five bookmarks with a bonus passport charm. Know someone who loves to travel? This would be a marvelous gift. Know someone who is struggling in their walk with Christ? Again, a marvelous gift to give.
Happy Reading!
Deena