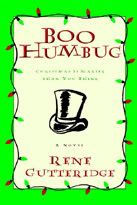 Christmas is just around the corner...well, sort of! And just in time comes a new story from Skary, Indiana and one of my favorite authors, Rene Gutteridge.
I do have one major complaint about "Boo Humbug"...it wasn't LONG ENOUGH!! Time has passed since we last read of Wolfe "Boo" Boone and company. Now a family of three, he and Ainsley are struggling with parenthood and the weariness that often accompanies it.
When Lois Stepaphanopolis decides to direct and produce her own version of "A Christmas Carol" and to do it Skary style, Wolfe jumps at the chance to get involved...anything but another smelly diaper and sleepless night will make him happy.
But Lois' version of Dickens' classic tale is enough to cause him to lose even MORE sleep! Still, only a handful of people will see this laughingstock of a production...right?
WRONG!!
Because Alfred Tennyson, former agent and lost soul is on the job. His word of mouth promotion gets the entire cast and town of Skary far more than they bargained for. Ultimately, it all works out, and even Alfred comes out smelling like holly and mistletoe.
Fans of the Boo series will be delighted with this novella...unless they are like me and want MORE BOO...still, the story is sweet and full of the wacky humor and satire I love Rene for. I give "Boo Humbug" five out of five bookmarks, with a little holly wreath charm.
Hoping for more Boo in the future...and if you want this wonderful book, click on the cover image above. If you'd like to WIN a copy, click
here
.
Happy Reading!
Deena
P.S. If you're planning a trip to
Amsterdam
book your
trip
online to find cheap hotels all over
Amsterdam
. Many
hotels in Amsterdam
are great to stay at and you'll find the best
Amsterdam hotels
by booking online!