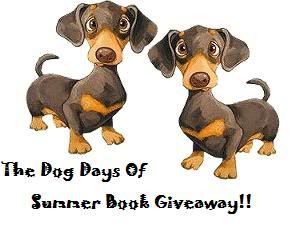 First and foremost, thanks for hanging out at the bookshelf this summer. I hope you found some great new reads to try, and you enjoy reading the reviews as much as I enjoy writing them.

Second, all good things must come to an end, and so we end our Dog Days of Summer Book Giveaway today. All who helped promote the giveaway and signed my Mr. Linky were entered for a $15.00 Christianbook.com gift certificate. Many thanks to those who promoted my blog and giveaway...but without further ado...our grand prize winner is...


Coach Jenny!!


As for our last book giveaway...the winners each receive a copy of Sandra Byrd's new release, "Let Them Eat Cake"...PLUS a book of their choice from my magnificent list. That's right, I'm picking TWO winners this week, and they are.....


Lace and Amanda


And finally, this has nothing to do with the Summer Giveaways...but I'm ALWAYS giving away something at My Bookshelf...and the winner of the Notes From A Spinning Planet pre-release by Melody Carlson is....


Aussietigger1980!!


ALL WINNERS MUST CONTACT ME BY EMAIL IMMEDIATELY!!!!


So, there you have it.

Now, on Monday, I'm STILL giving away a copy of Melody Carlson's OTHER pre-release from her series "The Secret Life of Samanthan McGregor"...PLUS an autographed copy of "The Legend of the Firefish" by George Bryan Polivka...so don't forget to find and enter those giveaways...look for the review links in my sidebar.

On Monday, September 3rd, I'm announcing my next giveaway extravaganza...so keep me bookmarked...because you just never know what's gonna happen at My Bookshelf!!

Happy Reading!

Deena