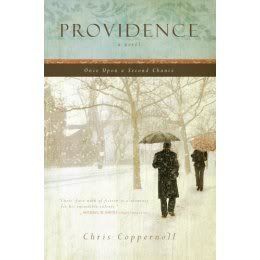 Since I read so many books and have so many left to read, my taste for books had grown a bit stale. Despite having so many on my TBR shelf, my husband decided to surprise me with a new release that I didn't know about, and he did a VERY good thing!
Chris Coppernoll's debut novel, "Providence" was a very pleasant surprise. A bittersweet tale of lost love and a search for significance, Mr. Coppernoll has penned an enjoyable and poignant novel.
Jack Clayton comes from more than just a broken home--more like a shattered one. After divorce destroys his parent's marriage, a drunk driver takes the life of his younger sister. From that point on, Jack and his mother, whom he calls Marianne, become strangers.
So when Jack finally leaves his hometown for college, accompanied by his childhood friend Mitchell, the relief he feels radiates off the pages. Soon Jack settles into life at college...until he finds love. Then things begin unraveling once again.
Flash to the present day: now a best selling author and pastor of an amazing outreach to the poor, Jack is asked to pen his life story. But to do so is to dredge up the past, and to deal with the shadows of regrets that have haunted him.
What results is a gorgeous story of a young man's journey to the God who has loved Him with an everlasting love. This novel did not go the direction I expected, but each plot twist followed a pattern that was both poetic and insightful.
The jumps from then to now and back again were a tad bit confusing. While I don't care for those stories that give you "twenty years ago" and "present day" headers on the chapters, it did take me a bit of reading to get up to speed on the time travel element of the story.
But once I caught on to Mr. Coppernoll's style, the writing flowed like a steady stream, and I found this story to be both refreshing and entertaining.
As an added treat, since Jack's past takes place in the 1980's, each chapter opens with a lyric from a hit song of the 80's...and I recognized at least 90% of the songs...I'm not sure if that's a good thing, but it WAS fun!!
How does Jack's story end? You'll just have to read it for yourself, and it is a journey you won't want to miss. This is quality fiction and I look forward to seeing what is next from Mr. Coppernoll.
"Providence" gets five out of five bookmarks from me, with a teeny-tiny iMac notebook charm. It's subtitled "Once Upon a Second Chance" and for good reason...as we serve a God of second, third, fourth, and infinite chances to get it right for Him. Mr. Coppernoll certainly got it right on his first time out! I'm voting this the Best Debut of 2007!
Happy Reading!
Deena