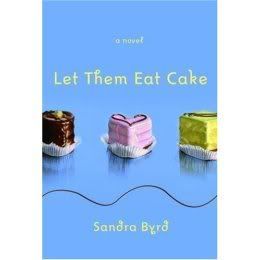 Sandra Byrd's newest release is a high-calorie, delicious read and satisfies the chick-lit craving in all of us!
Lexi Stuart has spent her entire life teaching and training herself to get a life--a French life. She's just lost her job, still living with her parents, and single. A chance encounter at a French bakery leads her to apply for a position as a counter person, and her life takes a French twist!
Lexi soon learns that what we hope for isn't always what we truly want, and there are no shortcuts to a deeper relationship with God. Her life map has curves and detours that cause her to re-evaluate, some good curves and some not so good.
A mix-up in an important order brings Dan into her life. Question is, what does it all mean? Will she find the guidance she needs to make wise decisions, or will her dreams go up in smoke?
A light-hearted romance for today's young Christian woman, "Let Them Eat Cake" is filled with wonderful characters and just enough romance to sweeten the deal. Sandra Byrd has made the transition from writing for teen girls to young adult women very smoothly, and I myself am hoping for seconds--I mean, a sequel!
I give "Let Them Eat Cake" four out of five bookmarks, with a little napoleon pastry as a charm...which makes me hungry, so I'm off to find something for breakfast! A word of caution: don't read this book on an empty stomach:-)
Happy Birthday!
Deena