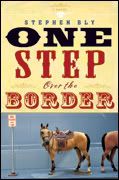 Stephen Bly has done it again! "One Step Over The Border" is knee-slappin', calf-ropin', foot-stompin', boot-scootin', steer-wranglin', nose-snortin', Skoal-spittin', bronc-bustin' fun!
Oh, and it's a good book, too!!
Think Danny Glover & Mel Gibson meet Lucy and Ethel:-)
Laramie Majors hooks up with Hap Bowman at Hap's latest Juanita sighting...and stuff starts flying immediately. See, that's Hap's mission in life...to find his lost Juanita---whom he met at the tender age of 12.
So Laramie and Hap rodeo up and chase down every Juanita from Wyoming to the Mexican border. Mishaps just seem to follow them as well--from cattle rustling (did they?) to pot growing (they didn't!)...
but nothing slows this cowboy pair down as they travel from adventure to adventure.
Will they ever find Hap's Juanita--the one with the horsehead-shaped birthmark on her neck??
What about Laramie...does he find his lady love??
And does Sara ever learn to survive outside the house??
Tune in for the answers to these and other burning questions!!
"One Step Over The Border" is a fun summer read that gets 5 out of five bookmarks from me...with a petite horse's head charm, in honor of Juanita! And I'm voting it "Best Western (not the motel) of 2007!!
For more fun with Stephen Bly, check out his site
here
.
Happy Reading!
Deena