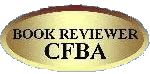 This week, the

Christian Fiction Blog Alliance
is introducing

ORCHARD OF HOPE

(Revell March 1, 2007)

by

Ann Gabhart
ABOUT THE AUTHOR:
Ann H. Gabhart has published a number of adult and young adult novels with several different publishers. The author of The Scent of Lilacs, Ann and her husband live a mile from where she was born in the Bluegrass region of Kentucky. She is active in her country church, and her husband sings bass in a southern gospel quartet.
ABOUT THE BOOK:
Nothing will be the same after the summer of 1964.
Drought has gripped the quiet Kentucky town of Hollyhill, and the town seems as if it is holding its breath--waiting. Jocie Brooke is nervous about starting high school. Her sister Tabitha is experiencing the weariness of waiting for a new baby. Her father David is feeling the timidity of those first steps toward true love. All of these pivotal steps in life are awaiting the Brooke family.
Into this cloud of tense anticipation, a black family from Chicago, the Hearndons move here to plant an orchard outside of town. Fresh off the Freedom Train, Myra Hearndon is sensitive to what the color of her skin may mean in a Southern town. Her family will have to contend with more than the dry ground and blazing sun as they try to create their ORCHARD OF HOPE.
Jocie finds herself befrending a boy that some townspeople shun. Due to unspoken racial lines in this southern town, the presence of these newcomers sparks a smoldering fire of unrest that will change Hollyhill..and Jocie...forever.
In this close-knit community, everything is about to change.
Let this riveting novel take you along to experience unexpected love, new life, and renewed faith amid life's trials.
My Review:
I first met Jocie and David in the first novel, "The Scent of Lilacs". Aunt Love was beginning to slip up in her memory, questions arose about who Jocie's father really was, and Jocie's fresh, innocent faith was so refreshing. The dog prayer brought her faithful and almost human Zeb, and the sister prayer brought Tabitha home...with a surprise of her own.
Now we see Jocie ready to enter high school. Wes is recovering from the tornado trauma. David is finally admitting his feelings for Leigh are developing into something more than friendship. And Tabitha is adjusting to being back home.
It's the summer of 1964, and the civil rights movement has changed a lot in the South. The question is, how much change is needed in Hollyhill and how much is coming? What will happen when Noah begins working for David at the newspaper? What will happen when his family begins attending the church David pastors?
The events are life-changing, and no one will be left the same. But watching their lives unfold is a slow, pleasurable Southern experience that you won't want to miss. Begin with The Scent of Lilacs and take the entire journey with David, Jocie, Aunt Love, Zella, Leigh, Wes, and Zeb--the almost human dog.
Orchard of Hope gets 3 bookmarks and a bonus tassel from me...with a little lilac charm for fun!
Happy Reading!
Deena