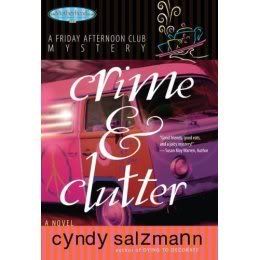 When I think "mystery" I usually think murder, dead body, or criminal activity that must be resolved.
Cyndy Salzmann is teaching me to think in an entirely different way!
"Crime & Clutter" is the second book in the Friday Afternoon Club series, and it is wonderful reading. Chocked full of recipes, some of which I may even try very soon, it also has a group of women that I wouldn't mind hanging out with on a Friday afternoon!
In their last adventure, Lucy was the one with the mystery to solve. She had just lost her husband and her mom, and now she has inherited a Civil War era home that houses a mystery for them to unravel.
In this new installment, the one hiding something is none other than quiet, polite Mary Alice. I can't say much, but it involves a storage unit, a 1963 VW bus (a very good year, btw!), and some tattered letters tied in pink ribbon.
The turmoil of the 60's touched many lives, including Mary Alice's. Together, the FAC work to solve the mystery in their friend's life, and to begin to help her heal old wounds she has carried for far too long.
And that is what Cyndy has taught me; sometimes a mystery is simply that which we don't want revealed. But, as God is teaching me, we must become transparent for Him to shine through us.
The only thing about Cyndy...it is a looooonnnngggg time between novels from her PC...hopefully, we won't have to wait long before we get to hang out on a Friday afternoon with Liz, Lucy, Mary Alice, Jessie, Kelly, and Marina (wish I had one of her cannolis!!).
"Crime and Clutter" gets three bookmarks from me, and a bonus VW bug charm...psychedelic colors, man!! Peace Out!
Happy Reading!
Deena