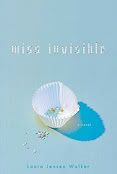 Just finished an amazing novel by Laura Jensen Walker called "Miss Invisible". It's the story of baker and cake decorator expert Fredericka Heinz, aka "Freddie". She is a large woman in a skinny world, and I totally get her!
The greatest thing about Laura's book is we never learn what size Freddie is or how large she is...we just know she is bigger than society allows women to be. Thus, she is invisible--as a customer, as an employee, as a person...as a woman. And no matter what size WE are, we can identify with Freddie's story.
"Miss Invisible" chronicles Freddie's journey to self-acceptance and to becoming visible to everyone as a beautiful child of God. No, she never does become one of the "stick women"...she stays large and healthy. But after meeting Deborah, a big black beauty who isn't afraid to wear color and to stand out, Freddie's days of leaning against walls and wearing all black are numbered.
Through Deborah's example, the encouragement of friends like Shane, Nancy and Millie, and some God ordained circumstances, Freddie finally finds the courage to stand up to abuse, to be free to be herself, and to realize that, as a large woman, she was guilty of reverse discrimination...looking down on the "stick women"...
We all have weight issues, body issues...face it, we live in a surface appearance society. But it's time Christian women of all shapes and sizes learn to let God transform them from the inside out, and let what the world says about size and fashion die in their lives.
I loved Deborah, but I totally identified with Freddie. My heart broke for her when her father...well, you'll just have to read the book.
As a large woman in a skinny-obssessed world, I thoroughly enjoyed Laura's novel. I refuse to be invisible becuase of my size, and I refuse the let the world define my worth...I want to be healthy and able to serve my Lord...and that's enough for me!
Whether you're large and in charge or can squeeze into a zero, this book is an eye-opening education on size discrimination and the need for love and acceptance. Get "Miss Invisible" and read it, and then look at ALL people through God's eyes...His love fits all...and that's the truth!
Happy Reading!
Deena