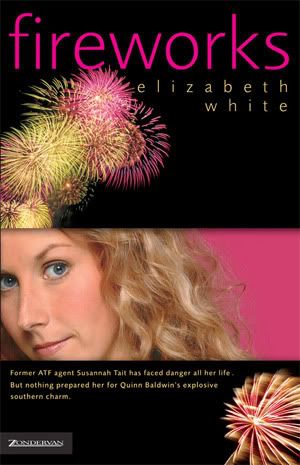 Elizabeth is one of my favorite contemporary romance authors. She is light, fun, and the spiritual element is always very believable. She doesn't disappoint me in "Fireworks".
Quinn Baldwin is a pyrotechic guy--a setter offer of fireworks...LOL! The story opens with a tragic accident in which his fireworks display goes off a liiitttllee too early, destroying a wing of the civic center. But no worries...no one is injured, and he has insurance. Right?
Enter Susannah Tait, insurance investigator and agnostic. Sent to figure out if Quinn sabotaged his own company, Susannah ends up with more than she bargained for. Not only does she encounter the truth about Quinn, she mets God in a very touching and realistic moment.
I loved Susannah's landlady, Miss Elva Kay. She was the highlight of the novel for me...and I would love to stay at her bordinghouse! That hummingbird cake made me drool all over my blanket last night...too bad a recipe isn't included in the book (note to Elizabeth: I love that kind of stuff!).
So, if you are looking for a light, inspirational read, pick up a copy of Elizabeth White's "Fireworks"...and get excited about two more novels coming soon! This is chick-lit at its best...perfect springtime read!
"Fireworks" gets three bookmarks from me (I'm losing the graphic till I can find a way to shrink it down)...
Happy Reading!
Deena