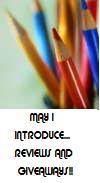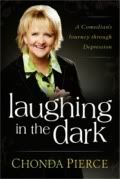 A comedian's journey through depression...that's the front cover of this book.
And it is a journey...Chonda takes us along on her journey, from start to the beginning of her road to healing. And this is honest, heart-wrenching, and so personal...but so precious.
Chonda's trademark humor is evident, even with such a serious subject. She is very candid about her family history and how it impacts her present situation.
Each chapter opens with a quote and a Scripture passage that helps mark this journey toward healing. Each chapter closes with an email Chonda has received, thanking her for being so candid about her battle, and a segment "from the experts" giving solid, clinical advice for dealing with depression.
I loved so many things about this book, but I'll share only two. The voice is real...Chonda holds nothing back, and she covers every aspect of this long, dark journey through the valley of depression. The old saying, "it takes one to know one" applies here. Chonda has been there, done that...you can trust what she says, and know it comes from her heart.
Chonda also offers this quote from a friend that I found so incredibly true: "Remember, it's one thing to
be
delivered; it's another thing altogether to
stay
delivered" (pg. 200, emphasis mine). Too often we ask God to change us, to remake us, to deliver us...and then 5 months or weeks later it all comes undone and we cry out, "But I thought I was done with this!"
God delivers us; we must cooperate with Him to stay delivered. Which may mean making sacrifices, changes, adjustments...or simply continuing down the path of healing that He has put us on.
I highly recommend "Laughing In the Dark". For anyone who battles depression, who knows someone battling depression...for anyone who wants to see a personal struggle up close and personal so they can relate to those who hurt...this is the book you need to read.
Enjoy the journey...
Deena