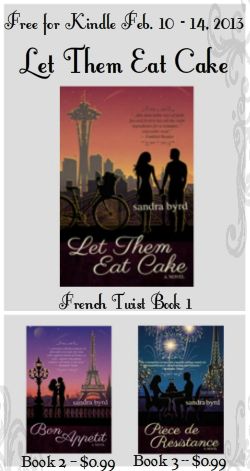 I'm an old-fashioned kind of reading gal. Give me a book in my hands and I will sigh with delight and turn pages and enjoy every moment. But I'm also tired of packing 10-20 novels along when I travel, so a Kindle was right up my alley!
When I stumble across a great offer for quality Christian fiction e-books, I can't wait to share, and this week is a triple treat! Author Sandra Byrd has crafted a wonderful series with the "French Twist" novels, and I enjoyed them all when they were first released.
Now, for this week (Feb. 10-14, 2013), you can download "Let Them Eat Cake" for FREE...and enjoy "Bon Appetit" and "Piece de Resistance" for only 99 cents each! As if that wasn't a sweet deal...
If you go to Sandra's website, she's giving away one box of Divine Delights petits fours. Leave a comment
at her site
and you just might win a delish gift...but be sure to check out the books, too.
I've been enjoying my e-books, courtesy of Sandra and her publicist, and all three are highly recommended!
Happy Reading!


Sell Used Books - Have Your Books Shipped To Us For Free And Get Fast Cash Back!