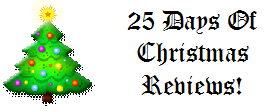 Christmas is for children...a magical holiday that celebrates the birth of Jesus as well as the spirit of giving and of love...so here's a book to read to your children to celebrate the season...
Back with tender and touching illustrations, Lisa Tawn Bergren and illustrator David Hohn have created "God Gave Us Christmas". Told from the perspective of a mother polar bear to her cub, it takes the focus from Santa and puts it back where it belongs...
...on God's great gift to us.
The re-telling of the Christmas story is adorable, accompanied by arctic creatures such as penguins and sea lions. Can you imagine if Bethlehem had been in the polar region??
This story is sure to become a beloved story for your family, and is a welcome addition to Lisa's "God Gave Us" storybooks for children. Both the writing and the illustrations are high quality, and appealing to both children and adults.
I'm giving "God Gave Us Christmas" four out of five bookmarks, with a nightlight as a charm. Add this book to your Christmas shelf, and to your family traditions! Thanks to my friends at Waterbrook Press for my copy!
Happy Reading!


Sell Used Books - Have Your Books Shipped To Us For Free And Get Fast Cash Back!