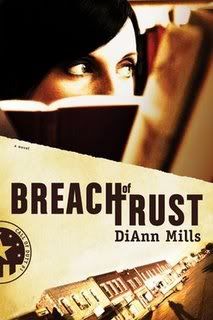 I'm excited about this new project from veteran author DiAnn Mills. Despite getting off to a slow start, once DiAnn Mills' new suspense drama kicks into gear, the story will leave you breathless and longing for more.
Written in the fashion of Dee Henderson, DiAnn's "Breach of Trust" examines a unique concept: faith and how it dwells in the life of a government paid deceiver.
Paige Rogers looks like the librarian of "Anytown, Pennsylvania", living in Split Creek and keeping track over overdue books. Her baking and her book groups have made her a town favorite--especially with the high school football coach, Miles Laird.
Problem is, people are not always who they appear to be. What secret is Paige hiding from her friends--and her family? Is it the fact that she's a former CIA agent...or that she's supposed to be dead??
What other secrets lurk in Paige's life, and what will that mean for the ones she's come to love and care for? How does faith fit into Paige's secretive life? Can Miles breach the wall that she has up around her heart?
And does the election coming up play a part in this entire scenario? Ooh, elections with grave consequences! How true to life!!
DiAnn Mills has written a crisp and fast paced thriller that takes you inside more than just the workings of the CIA and other federal agencies. She takes you inside the heart of an operative who is a woman of deep faith and allows you to watch as she works out her salvation with fear and trembling.
I'm thrilled and hoping for more in this genre from this gifted author. I'm rating "Breach of Trust" four out of five bookmarks (it gets off to a slow start which I find distracting considering how much suspense I read), with a Beretta as a bookmark--unloaded and with a HUGE safety on!
Happy Reading!