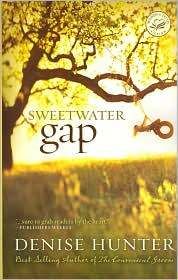 Anyone who's ever dealt with sibling rivalry and hidden secrets will relate to this new, well-crafted novel by Denise Hunter! I knew I'd love it when I saw the 'Women of Faith Fiction' logo on the cover.
Josie Mitchell ran from home years ago, and she's been running ever since. Finally settled into a life of her own, a call comes from back home. Nate, her brother-in-law, is irate. He's tired of her neglect and her seeming indifference to her sister's struggles keeping the family apple farm alive.
But Josie isn't the only family member keeping secrets. Her sister Laurel hasn't been honest with her about the lost crop or about her pregnancy. When Josie agrees to come home for harvest, can the two sisters finally be open with one another?
Their new manager doesn't take an immediate liking to Josie upon her return. Grady has secrets of his own, and Josie's presence might just cause him to lose everything he's dreamed of. Can she convince Grady that she's trustworthy? Will the two of them be able to work together to bring in this year's harvest?
"Sweetwater Gap" is about a harvest of more than just apples. Denise's new novel is a harvest of hope and of new beginnings. Her gift for creating life-like characters shines in this new story, and her knowledge of apple orchards is vivid enough to make your mouth water.
I had to go out and buy a bag of apples to munch on while I read! Denise always does her homework, and it pays off abundantly in her Women of Faith Fiction novel. Each story shows her growth as an author and her heart for Jesus shines through each page.
When you find yourself saying a prayer for fictional people, you know it's great writing. That's what you'll find in any story with Denise Hunter's name on the cover. "Sweetwater Gap" is an excellent choice for 'Women of Faith Fiction' and it's my second favorite novel by Denise...
...nothing tops "An Inconvenient Groom" for me--yet! I'm giving "Sweetwater Gap" five out of five bookmarks, with an old fashioned apple basket as a charm. And don't miss out on my buddy Rel's endorsement for "An Inconvenient Groom" inside the pages of this novel!
Happy Reading!