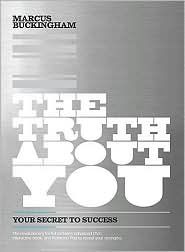 This is one of the most unique interactive books I've seen--ever. Thomas Nelson and Marcus Buckingham have come together to create a package for the generation that is searching for more...
...you'll find some of it in here.
"The Truth About You" is designed to give you focus and purpose. You begin by watching a 20 minute DVD that comes with enhanced features, including Strength Tip videos.
Then comes the reading--110 pages to discover what makes you unique, talented, gifted, and well...YOU. Instead of taking what others believe about you and deciding on where to go or how to serve...this is time spent, just God and you.
Including in the package is a ReMemo Pad--for you to make notes, answer questions, and to remember the important details about this study; details designed to help you focus on what God has gifted you with and how you might use it for his glory and for your purpose.
Perfect for a high school graduate, a college student, or someone just seeking out more to this life than just existing, "The Truth About You" is what you choose to make it. Each part of this study is valuable; all parts used together pack the most power.
My one quibble, again, is lack of Scripture. Even if "The Truth About You" isn't intended as a Bible study--oh, the power it would pack if it WAS a Bible study!! Still, keep your Bible handy as you work through this self-examination of your gifts, talents, strengths and callings.
In all, I give "The Truth About You" three out of five bookmarks, with a blue pencil as a charm and a blue tassel---the only thing missing besides the Scripture that I'd like to have!!
Happy Reading!