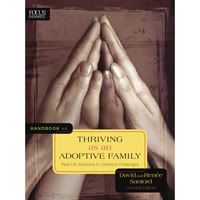 I'm going to be a bit transparent with you for this review, if you don't mind. I really can't review the book without putting my heart into it.
I wish this had been written 45 years ago. Perhaps I wouldn't bear the scars I have on my heart and in my mind had my parents read this book. And, quite possibly, my adoption would have actually gone through.
With candid stories (the most appealing feature for me) and practical, sound advice, "Thriving as an Adoptive Family" is a must read book. Whether you're planning on adopting, wondering about the possibilities, or know families who have adoptive children...
...you really need to have this book. Filled with counsel on how to adopt, how to handle the transition, and how to be supportive of adoptive families, this is the best handbook for adoption I've ever read.
And, being a child who was given up and then fostered for 21 years, it is vital that parents, birth-parents and those in ministry to such parents know what is in this book. For instance, did you know that even babies taken into adoptive families at birth still have bonding issues?
Even when the homes are warm and loving and supportive? I didn't. And reading about these issues explained a lot of my life and the problems I've struggled with since I could first remember anything.
How to talk about adoption makes all the difference in your child's sense of security. How others relate to your child can impact the entire family. And how you respond to criticism, complaints, and questions can have a lasting impact for good...or do damage you're not even aware of.
Had my parents been able to read this book, maybe I wouldn't have grown up with a "secret" hanging over my head...often a "dirty little secret". At least, that's how it felt to me.
"Thriving as an Adoptive Family" has been so healing for me to read. No, I wasn't crazy or mental or too emotional. I was me, and trying to find out what that meant amidst secrecy, abandonment and so much more.
Praise God, I'm healthier than I've ever been. But oh, the scars that would have never appeared! Please, buy this book. Read this book. Share this book. Begin a ministry for adoptive families in your church.
Don't let these families walk alone. This is a long and sometimes lonely journey---we need all the support and love and prayers we can get. I'm giving "Thriving as an Adoptive Family" gets the Golden Bookmark for writing and publishing excellence with a baby rattle as a charm.
Happy Reading!