In my profession, I meet so many interesting people. Some are authors, some are bloggers, some publishers or publicists. This very special lady is unique: she is a web design artist, and just the most amazing woman!

I was so drawn to her, and found her to be a kindred sister, so I asked if I could interview her and introduce you to Kelli Standish, founder of PulsePoint Design: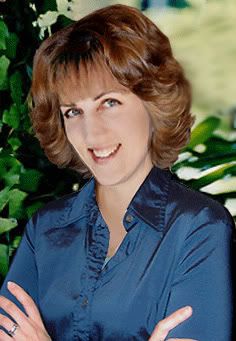 1) Tell me a bit about your family: hubby, kids, etc.
I grew up with a father who was a white supremacist. He taught me to hate every race but the "Aryan" race, and told me my calling was to "take the world back for Christ by bloodshed" starting with blacks and Jews, and moving on from there. Yet something in my heart always rebelled against this teaching. I believed God loved those He made… all of them, and that He didn't "burn the first batch and make mistakes" before making "real people", as my father claimed.
From the time I was 11, I lived in foster homes, several of them wonderful, loving families. Which was God's great gift to me.
Flashing forward to today, I'm married to Dennis Standish (yes, he is a direct descendant of Mayflower military captain Myles Standish. In fact, both of our ancestors came over on the Mayflower. We used to joke that they were sweethearts. Then we found out they were both men.)
We'll celebrate our ten year anniversary next month. Since we started out as what was basically an arranged marriage in a rather cultish church background, our marriage's endurance is especially miraculous.
We are the proud owners of three almost human cats and no dogs (thank you, Lord). No kids either (thank you again, Lord!) but we'll probably end up adopting an entire orphanage once we get back overseas.
2) Your husband is serving our country in the military. What branch is he in, and how can we all pray for you?
Dennis was a fast attack submarine navigator for years. And those years were some of the worst of my life. It was like being a married single person. The last year he was in the Navy, he was away 10 months out of 12. During that time, all manner of miserable things happened, including the night I came home to discover a burglar in my bedroom! So you can imagine that a re-enlistment wasn't high on my priority list. But I also have a severe spine injury and we desperately needed medical coverage. Last year, the amazing authors of the Christian publishing community banded together and raised every cent of the $20 thousand plus I needed for surgery. I was devastated (for their sake as much as my own) when I learned that surgery failed. So, my husband re-enlisted to ensure my medical care for this next surgery.
At this point, I think the main prayers we need are for comfort and peace. The re-enlistment was actually a terrible blow to us. We've dreamed of returning to the mission field in Africa, and we had just resumed talks with our aid agency (Medair) about placement when we discovered that my spine surgery failed. We were left with the choice of re-enlistment for three years, or losing our house and losing my health permanently. It was a horrible spot to be in. We're grateful that the re-enlistment was only 3 years rather than 5, and that Dennis will be located here rather than shipping off somewhere, but sometimes it's hard to thank God for lesser evils.
3) What makes you 'Kelli'...special traits, childhood memories, unique moments...share with us a bit of you.
Hmmm. Well, let's see. As a child, I never lived one place more than a month, and actually ate roadkill and leftovers from trashcans. My dad was a physically abusive former college professor who worshipped intellect, so you were either brainy or you were beaten. I was brainy.
I skipped sixth grade and went from fifth to seventh as an 11 year old. That year, I ran a one-person campaign to be the first girl allowed on the 7th grade football team. My petition was declined… and yes, the team lost that year.
During high school, I auditioned by phone and landed a part in a select Jazz choir. I was also a cheerleader. While other girls in high school earned money babysitting, I went and got my radio broadcasters license, and worked for several years as a broadcaster to a 5-state listening area.
At sixteen, I went on my first missions trip. During which, a supposedly blind man in the slums of LA asked me to help him cross the street. I, and my groped backside, quickly discovered he wasn't blind. I also discovered that foreign service was the love of my life.
At seventeen, after a broken engagement, I packed up all my belongings, sold the rest at a rummage sale, left my foster home, and moved myself to Hawaii.
At eighteen, I graduated from YWAM's Discipleship Training School, and promptly joined a cult. (Long story, for another dayJ)
Since that time I've traveled to twenty two countries and as many states. I've crossed the Nile by boat, I've watched the sun rise over the equator, I've played rugby in the rain in Fiji, I've been held up at gunpoint in a Sudanese jungle, I've had scones and Devonshire cream in Australia, I've hiked the base of the Alps in Switzerland… so many stories.
4) When it comes to snacks, what gets you energized and ready to do some business?
Oh tea. Absolutely tea. I have about 120 different flavors here at home. I'm a big fan of Lindt white chocolate truffles, tooJ
5) Reading preference: fiction (specific genre) or non-fiction?
I like both. My reading appetites are really varied. For instance, I've just read a very compelling book called Sex, Lies, and Handwriting, about what our handwriting reveals about our character. On the fiction side, I've just re-read one of my favorite novels of all time: Arabian Winds by Linda Chaikin. My overall preference in fiction is anything with a strong suspense line and an exotic location.
Interested in what you've read? Then tune in on Monday for part two of this amazing interview with this amazing woman!
Happy Reading!