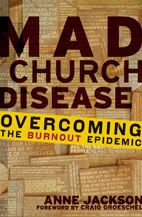 I'm going to bare my heart and soul a bit to you in this one. Recently, a member of our congregation presented unfounded allegations about our family's personal life to my husband/pastor. It nearly pushed me under spiritually.
I wanted so badly to walk away from church, ministry, people...everything but Jesus. I didn't, but it is only because of God's grace, sufficiency and mercy that I didn't.
Being in ministry is hard; being a family in ministry is harder. And this is a much needed book for anyone or any family who serves in any capacity of church ministry. If you love your pastor and his family, if you love your church staff...if you love yourself, you will get and read and apply this book.
"Mad Church Disease" is a careful and Biblical examination of burnout in ministry. We are at epidemic proportions of burnout in the American church. However, when Anne researched books on the topic, she found little if any materials.
That sparked the desire to write something that would reach out to families suffering from overloads of stress or burnout. I'm not thankful for what my sister Anne went through in order to write this book, but yet I am.
She writes with authentic voice because she's been there. She writes with information because she's done her homework. And she writes from a servant's heart, packing this short, easy to read book with Scripture after Scripture and interview after interview.
This woman truly has a heart for ministry and for those who minister. She herself grew up in a pastor's home and suffered from abuse of every variety. Anne does not hide her own struggles or sins; she bravely bares them in this examination of how to keep moving forward in a lifestyle that somehow seems to drain the life out of us.
Anne's approach is multi-faceted. She doesn't just talk about spiritual disciplines, but mental, emotional and physical ones as well. I truly haven't read such a well rounded book on whole being care in my life.
With personal stories as well as interviews and comments from those in ministry, Anne's words ring with powerful authenticity and truth. Not only has she walked this road, but she brings us other sojourners along the way for encouragement and "follow me as I follow Christ" exhortations.
I cannot recommend this book highly enough. I cannot urge you strongly enough to get, read, study and apply this book. Thankfully, Anne's writing style is so engaging that you'll find yourself flying through the pages.
Don't.
Take your time. Savor each section. Roll it around in your soul and let the messages and the warnings soak in. And then make time to live it out in your life and in the lives of your family and your staff.
If we don't, we could very well quench the Spirit's power and ability to move and to bring revival to the church and to our world. It is that critical that we understand the message of Anne's book--a message God had her write for such a time as this.
"Mad Church Disease" releases January 2009 from Zondervan. Watch for it. Buy it by the case and distribute it to those in your congregations, your network, your life who are serving in any capacity for ministry--but especially for your pastor and his family.
I'm awarding this book the golden bookmark with the golden tassel for publishing excellence, as well as "Best in Christian Ministry of the Decade".
Yes. It's that good. It's that important. It's that Biblical. And it spoke to me that much. I'm serious...even the arrival of my advanced copy was timely. Do not hesitate when this book releases.
In fact, I encourage you--no, I URGE you to check out the
website
and download a sample, post on the message boards, and join the community of healing.
Happy Reading!