Just in time for Christmas (or for any time, actually), I'd like to introduce you to a delightful series of books by Chris Shea. She's a talented and unique artist with a heart for God's people.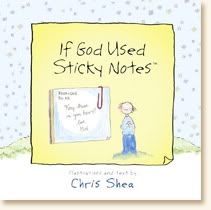 "If God Used Sticky Notes" are books of encouragement and inspiration with delightful illustrations. Each page suggests a location God might put a sticky note with a message of love, support and encouragement, just for you.
Maybe under your teacup...or within your stack of bills...or on a magazine in a hospital waiting room. Anywhere you may need a touch from God. And we all know, in today's uncertain world...a touch from God is a much needed thing.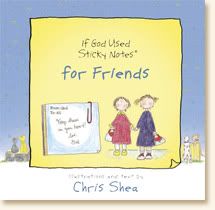 Her line of books, published by Harvest House, includes unique titles such as "If God Used Sticky Notes For Friends", custom designed for kindred spirits, sisters of the heart, or people you love in your life needing a warm, sticky note hug.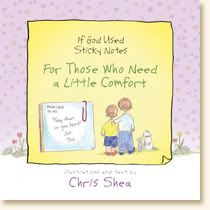 "If God Used Sticky Notes For Those Who Need a Little Comfort" is designed for those you love going through a trial...such as an illness, a death, or a struggle that is threatening to take him or her under.
Finally, this is my particular favorite (no comments, please:-): "If God Used Sticky Notes For Those Who Need a Little Wisdom". Going through a period of doubt? Needing to sense God's direction for your life? Or just want to know you're on the proper pathway? This is the perfect book for you, or for someone in your spot.
I love these little books! The illustrations are whimsical and the Scriptures are heart penetrating. Her notes are sincerely crafted. Chris Shea is gifted of God, and I think you'll be just as delighted by her books as I am.
I'm giving "If God Used Sticky Notes" five out of five bookmarks, with a sticky note pad in the shape of a heart as a charm. And you know what...it wouldn't hurt to start a sticky note ministry...you never know who'll you'll bless, touch or reach!
Happy Reading!