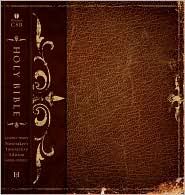 My family gives me SUCH a hard time! It wasn't all that long ago that I got excited whenever I checked the mail--books came in the mail! To me! But now, I'm kind of used to it--I still get jazzed, just not as over-the-top as I once did.
Unless I get something like today's package:-)
Introducing the new Holman Christian Standard Bible, Notetaker's Interactive Edition! I am a Bible junkie, and I have at least a dozen in different translations and styles. This one, however, is both gorgeous and unique.
Designed with the appearance of a classic leather-bound novel, the Notetaker's Edition is hardcover in a rich looking etched design. Two versions are available: one for men and one for women (Bible pictured is the men's design).
Both are in the easy to understand Holman Christian Standard translation, and have a gorgeous dedication page and a ribbon to mark your favorite passage or where you're currently reading.
All of that is wonderful. I love it, I truly do. But what gets me SO excited about this particular Bible is not only the cross referencing feature (which I adore SO much!). Get this...
...those wide margins? They're LINED for notetaking! Yeah, I know; the name gives it away. But still...to have oodles of room for writing my own personal inspirations about God's Word...wow.
Again, I say it...Wow! My husband is going to claim this from me as soon as I show it to him...he too is a Bible junkie, and a pastor to boot. Perfect for Christmas, The Notetaker's Interactive Edition will help anyone to get the most out of their daily reading or studying.
I'm not even going to attempt at rating this one. Just go out and buy one. With some cool pens and highlighters (not included). And start reading God's Word! What are you waiting for??
Happy Reading!