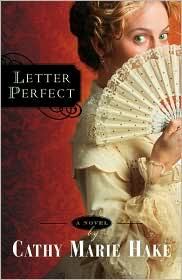 Cathy Marie Hake weaves a heart-rending story about a young girl society is trying to force into an acceptable mold. Problem is, no matter what Ruth Caldwell does, it never seems to be good enough.
The story is based in the 1800's in America. Women are made to believe that they exist only to look pretty and keep their place.
Problem with Ruth? She can't seem to find her place.
After being rejected yet again from her choice of school, Ruth sets off for California. Can she find her place there? Will the father she never knew accept her? Will this be a fresh, clean beginning for Ruth?
I grew up as a misfit, never fitting in. Reading "Letter Perfect" reminded me that God didn't make us to fit into a certain acceptable mold. He treasures us as we are, and Jesus makes the difference in where and how we fit.
Cathy's writing is able to put us into the time and place. She's not overly descriptive, which is a good thing. The action moves at a steady pace, and even though the setting isn't contemporary, the issues she discusses transcend time.
I honestly believe I've found a new author to love, and I highly recommend Cathy's books to fans of historical fiction. Her faith is evident without being preachy, and is genuine and a wonderful reflection of Cathy's heart for God.
Still searching for the next read,
Vic
Happy Reading!