I love so much about Christmas...primarily, celebrating the birth of my Savior. But a few goodies never hurt anyone, right? And Barbour always, always, ALWAYS puts out the most fun little cookbooks each year!
"Christmas At Home: Candy Lover's Cookbook" includes recipes for taffy, fudge, chocolates, and a wide variety of other gift giving candy ideas. This little book is also chocked full of Scriptures and tips on candy making, something a novice like me appreciates!
Next is "Chocolate Lover's Cookbooks", my absolute favorite of all four books in this year's series. This delicious little book holds recipes for Christmas Bites, Yuletide Loaves, Dippers and much more. I can't wait to work on the Eclair Cake with my daughter for her Christmas Home Economics project!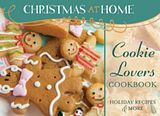 "Cookie Lover's Cookbook" has been one of my most used in previous years, and I'm sure my daughter and I are going to get some delicious ideas from this edition as well. This little recipe book has Old Fashioned Favorites as well as some that are Fancy and Fun. I'm eager to try some of the recipes in the Cake Mix Cookie section.
Finally, we have the "Dessert Lover's Cookbook". So if you aren't on a sugar high yet, watch out! Choose from Drinkable Desserts, Party Desserts, and Giftable Desserts. In today's economy, I'm sure that is going to be one of my most used sections.
We've talked a lot about recipes, but each of these little books is subtitled "And More"...for very good reason. Amid the recipes are Scriptures, quotes, and fun facts or helpful tips. Each book is unique, and I've used mine year after year to try new recipes and re-create family favorites.
You just can't go wrong with Barbour's "Christmas At Home" cookbook series. Value priced, pick up a few for gifts, stocking stuffers, or just to enjoy your holiday baking even more. I'm giving the series five out of five bookmarks, with a baking pan as a charm...filled with that yummy Eclair Cake I mentioned earlier!
Happy Reading!