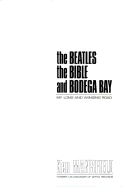 Imagine something with me if you will--imagine that the sole reason for a group called "The Beatles" was so that a small town young man could make good with his record company, meet the fab four, get involved with their soon to be mystic lifestyle and exposed to the spiritual world...
...all so he could one day write a memoir about his salvation in Christ Jesus and reach millions with the message of the Gospel.
Sound far-fetched?
Then you haven't yet discovered Ken Mansfield's memoir, "The Beatles, The Bible and Bodega Bay". This fascinating journey that bounces between the modern time of Ken's journey with God and his journey back in the day with John, Paul, George and Ringo is sure to captivate you and inspire you.
Ken was once the U.S. manager for Apple Corp. and worked in the upper tier of Capital records, with The Beatles as his main clients. In his memoir, Ken recounts memories that are not found in any other book on this mop-top group who changed the music scene.
More importantly, Ken chronicles his spiritual journey through New Age philosophy and his own personal guru to finally finding himself empty. This long and winding road led Ken to God's front door--or rather, he heard God knocking on his heart's door.
Praise God, he let Him in!
Ken's faith is evident in his ponderings along the coastline of Bodega Bay, his new hometown. He quotes Scripture as muses at the power and majesty of the ocean, comparing it to God's relationship with him and the constant cleansing power of Christ's blood.
I took a special interest in this book after hearing Mr. Mansfield speak in person at a recent event. His is a most fascinating journey, and he himself proposed the question I opened my review with.
His intimate knowledge of The Beatles has given him a platform to share his testimony. While some feel "ripped off" by a book about God and Jesus (obviously, they didn't read the title very closely!), many have come to Christ and have emailed questions about Jesus to Ken.
I praise his wife, Connie, for sticking to her sound beliefs in Jesus and not allowing her love for Ken to pull her from God's path. Her stand for the truth helped to lead Ken to Christ. As Connie puts it, there's great reward in obedience to Christ.
Filled with never before seen photos and with insider information about The Beatles and their latter years, this is also a fascinating look at the world as it once was. Ken's explanation of how treacherous it was when a new Beatle record was released was astounding to me.
And his recall of friend Mal Evans and what happened to him broke my heart. Meeting and hearing someone speak of such a history changing group was an event I'll never forget. Knowing Ken's my brother in Christ makes it all the more special, for I will now carry those memories into Heaven with me.
This is a hard to find book. As far as I can tell, it is out of print. Scout it out at local used bookstores or on Amazon, Ebay, or other used book sites. Published by Broadman and Holman, we can hope for a paperback edition of it soon.
My one and only complaint is Mr. Manfield's fondness for alliteration and what I call $10 words...but hey--he hung out with John, Paul, George and Ringo; I can cut him slack on those points.
His identifying with the ocean and the shore...those moments truly spoke to my heart. I cannot stand before those crashing waves and not worship my God who made them. And Ken's imaginings and postulations on how it all represents our relationship to God was inspiring and heart-molding for me.
So, I'm rating this one five out of five bookmarks, and close to calling it the best book on The Beatles yet. Two things hold me back: 1) it really is more about Ken and God than The Beatles and 2) he's written ANOTHER book on the Fab Four...so be watching for that review!
Now, let me ask you this question....what is your "For such a time as this" moment? Care to share? No prize to win except to publically proclaim your faith in Him. I'd love to read what you have to share.
Happy Reading!