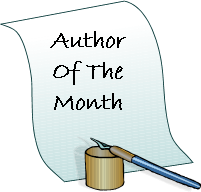 Last month was SO MUCH FUN!! I loved introducing you to Sharon Hinck, author of so many wonderful books--so I'm thrilled to begin another feater with a new author of the month that I've totally fallen in love with:-)
I discovered a new mystery author by accident--kind of the same way her heroine ends up finding dead bodies! I was lurking at Christianbook.com and saw an intriguing novel, ordered a copy, and was HOOKED.
Gabby St. Clair is the most unique crime fighter I've ever met in fiction. I want her to have the chance to find ONE MORE dead body, and for Christy Barritt to have the opportunity to write that story.
So, let me take this month to introduce you to a delightful young woman who has an imagination that tickles me and inspires me. This month's "Author of the Month" is Christy Barritt, author of the Squeaky Clean Mystery series!
Be watching for interviews, reviews, trivia, and fun! Oh, and chances for prizes that are SO WAY COOL!!
Happy Reading!