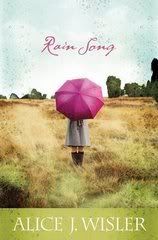 Many things about being a reviewer thrill me. Few thrill me as much as finding a new author to love. Alice J. Wisler has written herself into the pages of my memory, and she will forever be a treasured friend.
"Rain Song" chronicles the story of Nicole Michelin, a young woman filled with fear and held motionless by a hole in her heart that longs to be filled. Tragedy entered her life at the tender age of two, leaving blank spots that desperately need to be colored in.
Through what appeared to be chance, Nicole has found a friend in Harrison Michaels via email. He discovers her through her articles posted online at Pretty Fish, a website for lovers of aquatic beauty.
What Nicole soon discovers is that nothing about God's plan is random: from the moment she was taken in by her grandmother, to the quirky Southern family who helped raise her...even to the random email from Harrison...all tie together to heal Nicole of her fear and her questions about the past.
Her biggest fear involves her life of two years in Japan where her parents served as medical missionaries...where she lost her mother and all memories of her life in Japan. Harrison lives in Japan...and he remembers Nicole.
Can she release her fear long enough to ask the questions her heart yearns to have answered? Or will Nicole push Harrison away, leaving the past as a gaping heart hole that nothing but answers can fill?
Alice paints a vivid picture that slowly captivates the reader. That ache inside Nicole will awaken any ache you've had buried inside your heart. That sense of mystery that surrounds many of us--you'll find a kindred soul in Nicole.
And those fears that entangle us and hold us back? Alice's slow, Southern style, filled with Grandma Ducee's Southern Truths, will carefully unwind the burial clothes that enshroud us and set us free.
You simply have to be like Nicole and step out in faith and learn the "Rain Song" of Alice J. Wisler and her cast of beloved characters. I have a feeling we haven't seen the last of Nicole, Harrison, and the entire McCormick/Michelin clan...at least, I'm hoping so.
Alice is an author to watch, and to fall in love with. She writes my second favorite genre of all time--southern lit, and she does it with class, wit and style--and a unique voice sure to set her apart in the Christian fiction marketplace.
I'm giving "Rain Song" five out of five bookmarks, with a paper plate filled with hooot dooooo and ketchup--just WAIT until you meet Monet:-) See if you don't fall in love with this one!
Happy Reading!
Deena