Oh, I'm so excited! This wonderful woman is one of my all time favorite people, and to introduce her to you...I've got goosebumps! You're going to LOVE her, and devour her books...trust me!!

So, without further ramblings from me, because I tend to ramble, especially when I'm excited or nervous, so....what's that, I'm rambling? Oh, my bad! Anyhoo...here's my interview with SHARON HINCK!!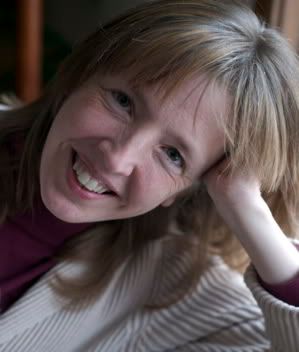 1) Tell us a little about yourself.
I've been married to my amazing husband for 29 years, and we have four children – only one is still in the nest. My undergrad degree was in Christian education, but in addition to church work, I was always very involved in the arts – in theatre, ballet, and music. My graduate degree is in communication and after grad school I helped found a Christian performing arts group that I worked with for ten years as artistic director. I've been writing all my life and began publishing in magazines and book compilations about 25 years ago, but didn't dive in to writing my first novel until six years ago.
2) What was the moment like when you first saw your book on the shelf in the bookstores?
I kept thinking, "God is a God of miracles." I knew the odds against being published. I knew my inadequacies and limitations – despite my hard work to develop my craft. I knew the life-experiences that were condensed and drawn from in that story. So I knew it was a mind-boggling gift of God's grace that The Secret Life of Becky Miller was in print. I just prayed and prayed that the people who read it would feel that they weren't alone in the challenges of being a follower of Christ, and a woman juggling many roles, and a person longing to know her life made a difference.
3) Everyone has a story to tell. What's the story you long to tell your readers each time they pick up one of your books?
Life is a grand adventure, but often the road is harder than we expected. God is as close to us as each breath we take, each beat of our heart, even in the darkest places. He can transform every experience into something of great value. His grace pours out through the broken places of our lives.
4) Your tag line on your blog, in fact, the TITLE of your blog is "Stories For the Hero In All of Us". Why did you pick that phrase?
I write a variety of kinds of stories, but I looked for the uniting theme. All my stories are contemporary stories about a woman (the kind who could be your next-door neighbor) on a journey of faith, who is empowered by God to fill a heroic role she wouldn't have expected to fill.
5) Share about your latest project, "Stepping Into Sunlight".
Penny, a Navy chaplain's wife, witnesses a violent crime and struggles with post traumatic stress while her husband is on his first deployment. Far from family and friends, she fights to heal for the sake of her seven-year-old son, even though ordinary tasks take heroic efforts. She's haunted by flashbacks and is tormented by fear, so she designs a project to speed her recovery: doing one small, kind act for a different person each day. The results are sometimes funny, sometimes heartbreaking, and often used by God in surprising ways.
6) You have a spin-off from this novel called "Penny's Project". What's that about?
I've invited folks to join Penny in her project – to look for small steps of kindness they can do each day. I created a special blog as a place to share ideas and experiences. Everyone is welcome to stop by and read the ideas, leave comments, and be part of rocking our world with acts of love.
http://pennysproject.blogspot.com/
7) Any sneak peeks at your current writings?
I have a new story idea that I'm very excited about, but it's still in the works.
(I tried, but that was all I could pry out of her!)
8) When it comes to writing, where do you go for your inspiration?
My time alone with God, worship, music, hiking in the woods, wonderful books, chats with friends
9) Any closing thoughts for my readers?
In Stepping Into Sunlight, an outwardly "pulled together" woman begins to crumble. I think there are many people around us who are suffering in silence. C.S. Lewis once said, "We read to know we aren't alone." My prayer is that this story will help those who are battling depression, anxiety, or PTSD to feel less alone. I also pray the story will encourage all of us to be more aware of how our kind words or small acts of love could make a huge difference in someone's day. And my prayer for all my books is that one scene, one idea, one character, something in those stories, will give people a new glimpse of some facet of our Savior – draw them a bit closer – recognize His hand in their lives, as they recognize His hand in the lives of the characters they are reading about.
Thanks, Sharon! Dear reading friends, seriously, do NOT miss out on this amazing woman and her amazing gift of storytelling!! Be watching for my "Stepping Into Sunlight" trivia contest...coming soon!!
Happy Reading!
Deena