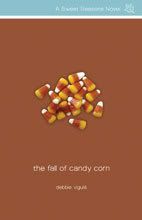 Two quick impressions of the "Sweet Seasons" series so far: 1) Oh, how I wish The Zone existed and 2) I would NEVER want to work there! But Candace Thompson learned a lot from her summer spent as a cotton candy vendor, so she's back for more...
...than she bargained for!
Seems that night, oh, that surreal night in The Zone with Kurt has become an Urban Legend at the mega-fun park. So much so that for "Scare", the Fall event that draws thousands, the featured "Scare Zone" is the "Candy Craze Maze".
Not so bad...until Candace realizes she's portraying HERSELF! What's a girl who avoids the spotlight to do when it suddenly shines brightly on her? Add to that her best friend Tamara doing all she can to promote Candace's "Scare" debut, and you've got one nervous senior!
Future stares Candace in the face, which is enough for her own scare event. Should she stay with her current boyfriend, or is their relationship deep enough for her? Is college on her horizon, and will it be community or Cal State?
And who's trying to destroy "Scare"? Can Candace stay out of harm's way this time, or is she destined to enjoy "The Fall of Candy Corn"? Somehow, someway, I'm getting my hands on the REST of this delightful series!
Debbie writes with a genuine voice and addresses many issues facing teens on the verge of adulthood with heart and insight. I'm giving this enjoyable seasonal read five out of five bookmarks, with a pirate's hook as a charm--don't worry--it's rubber!
Happy Reading!
Deena