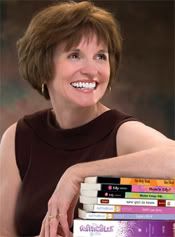 Remember "Lucy Doesn't Wear Pink"? Well, get this...the author, Nancy Rue, has a TOUR FOR TWEENS AND TEENS!!
Here's the official blurp:
Hey girls...Join the original Faithgirl, Nancy Rue, on tour in a city near you!
Nancy can't wait to meet you!That's right. Nancy Rue, author of over 100 books including the Sophie Series, Beauty Lab, Girl Politics, Body Talk, and Everybody Tells Me To Be Myself But I Don't Know Who I Am is hitting the road and coming to Metro Detroit on the Beauty of Believing Tour!
Join her for this up close and personal event, perfect for any girl looking for a morning of bonding with her mom and girlfriends! (Hey moms and youth group leaders! We recommend this event for tween girls ages 9-12.)
HOW COOL IS THAT?? Click
here
for more info!
Happy Reading!
Deena