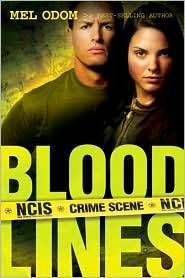 If you're a fan of NCIS or CSI, can you answer a question for me, please?
WHY AREN'T YOU READING MEL ODOM'S OUTSTANDING SERIES??
With "Blood Lines", Commander Will Coburn and his NCIS team go on the defensive for one of their own. Marines never leave a man behind, and neither does this tight knit military family.
Agent Shelton (Shel) McHenry finds himself on the path of a known killer--of a fellow Marine. During a stand off, McHenry uses deadly force to defend himself--taking out the son of a well-known drug smuggler.
Victor Gant served in Vietnam--and he takes no prisoners.
Ever.
But he does believe in blood vengeance, and Gant won't rest until he takes revenge on NCIS agent McHenry and his team. Will secrets in the McHenry family tree be used to catch Shel off his guard?
How can the NCIS team destroy this known enemy without harming one of their own? Faith deserted Shel McHenry years ago at the graveside of his mother--will it return now that he stares death in the face himself?
With every novel, Mel Odom ratchets up the tension and the gritty drama of military crime investigation, and fleshes out this group of characters with richness and depth. When you find yourself praying for people. who. are. not. real--
Now, THAT's great writing! Start with the first novel, "Paid in Blood" if you're an order freak like me--or pick up right here. Either way, you're guaranteed a pulse-pounding reading experience that beats ANY episode of NCIS any day of the week!
I'm giving "Blood Lines" five out of five bookmarks with a set of night goggles as a a charm--you'll need them to keep flipping the pages long into the wee hours of the morning! Now, my only problem is--when will Mel write another one????????????
Watch for "Blood Lines" to release in January 2009 from Tyndale House Publishers!!
Happy Reading!