Wow.

When God laid this project on my heart, I had no idea where it would go, or if it would work.

What an amazing God we serve!!

Not only did YOU get a chance to get to know one of the greatest writers in fiction today, I was privileged with MEETING Sharon face to face--what are the odds of that happening to me again??

If I had to characterize Sharon's writing (considering she's a multi-genre author), I would have no problem with it at all:

Sharon writes "everywoman" stories. No matter who you are, where you are, what stage of life you're in...you can relate to her stories. That's one of the things I adore about her.

I think the cover of her first novel captures the essence of her stories (despite the cartoonish cover):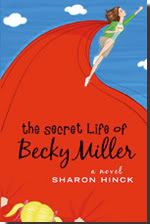 Sharon has the uncanny knack of seeing the 'secret life' inside of us, and drawing it out through her storytelling abilities. From Becky Miller to Susan Mitchell to Penny Sullivan, Sharon tells OUR story.
Our desire to do great things for God, to be more than we are, and to never settle for less than His best. That's my prayer for Sharon, and I truly believe that's her prayer for us...shared each time we pick up one of her books.
So, welcome to "Everywoman Stories", or, as Sharon likes to put it, "Stories for The Hero In All of Us". Join with me in praying for Sharon:
Father, thank You for our sister. Thank You for the talent You've given her, and for allowing us to be blessed by it. I pray You will continue to give her stories, and that we will always be given the opportunity to read them. Anoint the work of her hands as she strives to honor You. Give her good health, and a path that is well lit by Your Spirit. Go with her, guide her, and love her. In Jesus' name, amen.
See you all next month when I feature Christy Barritt, author of the "Squeaky Clean Mystery" series!!
Happy Reading!
Deena