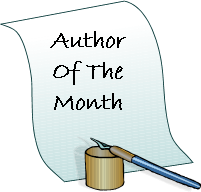 God will have to work MIGHTY hard to top this premier debut of my "Author of the Month" feature! I was privileged to not only select Sharon as my 'guinea pig' for this project...
...I GOT TO MEET HER!!
The Motiv8 Fantasy Fiction Tour stopped in Sacramento, California the night we were to head back home from our daughter's wedding. I asked, Dave said yes, and we timed our arrival in Sac to coincide with the tour stop.
TALK ABOUT A GOD ENCOUNTER!!
Sharon arrived to pick up her things and head back to the hotel...she wasn't feeling up to par (pray for her) and the store hadn't ordered in ANY of her books. IN FACT, Barnes and Noble on Arden Way didn't order in MOST of the books they were supposed to, set them up in the CHILDREN'S ROOM with limited space and seating...and NO SIGNAGE.
What was up with THAT? I'm just SAYIN'...
Anyway, it was a GOD thing, because I stepped out of my cocoon of shyness (yes, I'm shy when I'm not on the net:-) and approached my author hero. I asked if she was leaving and she said yes and explained why.
I told her, "Well, I'm mainly here to see you. My name is Deena Peterson," and her eyes lit up. SHE REMEMBERED ME!!
It was SO WAY COOL! We took pictures, she signed my books, introduced me to 'the guys' (more about THEM in NOVEMBER!!), and THEN....
...because she was 'leaving', I got her to myself for NEARLY a HALF AN HOUR!!!
We talked, we laughed, we cried, we shared dreams, frustrations. We prayed over one another....it was SO GOD!!
She's not just an author, book buddies...she's a gorgeous, talented sister in Christ who's took some heavy hits in life lately, and she needs us. She needs our love, support, belief, prayer.
She IS who she represents herself to be on the net. Just the sweetest, most tender soul sister with ginormous talent! She IS everywoman's voice in Christian fiction...and I adore her more.
So, watch for the Motiv8 Fantasy Fiction Tour to stop by near you if you're on the West Coast. If not, try to hook up with them via the net. And always remember, behind the stories you love are real author people just like us...they're just WAY more talented at storytelling than we are.
And they're in good company...Jesus was a Master Storyteller:-)
Happy Reading!
Deena