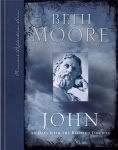 Beth Moore is one of my spiritual heroes and mentors. She has helped me grow as a believer, as a women of God, as a daughter of broken and fractured relationships...
her teachings have brought so much freedom and knowledge and grace into my life.
So, I'm delighted to share with you one of Beth's newest resources for personal study. Many of Beth's studies are better suited for small groups---this one is completely different!
"John: 90 Days with the Beloved Disciple" is a personal study journal. Filled with Scripture and wisdom gleaned from the life of the disciple whom Jesus loved, this volume is gorgeously bound and well worth owning.
Each day includes a portion of Scripture to read, questions to "Stop and Consider", a devotional page of thoughts from Beth, and a page to pray God's Word for the day. This page is also filled with Scripture based thoughts that follow with the day's reading.
My only complaint is that I hate to write in it, it is so gorgeous. But God whispered to me how much MORE gorgeous this book will be when it is filled with Your prayers to Him and thoughts of Him.
"John: 90 Days with the Beloved Disciple" is the third in this personal devotional series. Also in the series is:
And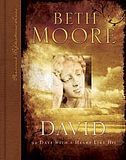 Both are beautifully bound and arranged similarly to "John: 90 Days with the Beloved Disciple". If you've been hungry for God's Word and His Spirit in your life, these are just perfect to motivate you to dive in and feast on the richness of the Word.
I'm giving "John" and the entire "90 Days With" series the golden bookmark, with the golden tassel for excellence in writing and publishing!
Happy Reading!
Deena