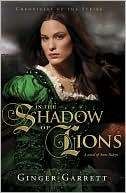 As an independent book reviewer, I feel it is my duty to warn you about dangerous books. To help you steer clear of the literary landmines that surround you in the world of reading. To help keep you safe.
So, with fair warning: Do NOT read this book unless you want to view your Bible with new eyes!
Ahem.
Now, for my review:-)
Ginger Garrett is an author who loves to play the "what if?" card with her writing. Each of her books begins with a premise that is deeply rooted in fact, then we travel with her, sometimes to exotic or ancient lands, to see just what history might actually have held for us to learn.
In her newest book, "In The Shadow of Lions", we examine the life of Anne Boleyn, the supposed mistress of King Henry the VIII. What if, instead of the crown grabbing woman she's been portrayed to be throughout history--she was instead a martyr of the faith, sacrificing her life for the Kingdom of God?
With that basic concept, we are thrust from modern day living into the England of old. When the Pope held the crown and when the church held the Word of God. Back to the early years of persecution for simply having, of all things, possession of the Holy Scriptures...in one's own English.
As King Henry struggles with his desire for an heir, and makes his attempt to sever from the Church, can Anne Boleyn complete the journey God has laid out for her? Or will fear keep her from fulfilling her calling?
What will Thomas More do when he finds out a traitor to the faith is in his midst? Does it make a difference if the person is servant...or family? How deep does his dedication to his cause run?
And what's up with the Scribe? (you'll have to wait for FUTURE volumes of this series for the answer to THAT ONE!)
As Ginger Garrett reminds us, today the American family owns an average of four Bibles...and reads none of them. But what if you read "In the Shadow of Lions" and THEN picked up your Bible...in your favorite, most comfortable translation...what then?
You'll never be able to look at the Word of God the same way...nor at history, for that matter. You will be forever changed by Ginger Garrett's words, and hopefully driven into God's Word with fresh eyes and a renewed heart of appreciation.
So, I'm naturally awarding "In The Shadow of Lions" the golden bookmark, with the distinction of "Best Historical Fiction of 2008" as well. Wish someone had warned ME about picking up Ginger's book (although, I wouldn't have listened to them:-).
Don't heed my warning, either. You'll be VERY glad you didn't!!
Happy Reading!
Deena