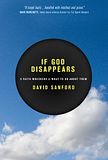 In today's postmodern culture, this may be the most important book you'll ever read. People are searching, are hungry for something...someone to believe in, and many of them have already 'believed in God'. Sharing this book may be the first step to their long journey home.
Who knows? It might be your journey.
"If God Disappears" tackles what David Sanford calls nine faith wreckers: Unsolved Mysteries, Anything Goes, Before A Fall, Out Of Control, etc. Each faith wrecker is then countered with a correlating faith builder, and both include personal anecdotes from David's life, or from the lives of those who contact him.
Through his
website
and his
blog
(both named for this book, or vice versa), David meets hundreds of people who find themselves in a crisis of faith. He's not afraid to admit that there can be moments in the life of a believer when God seems no where to be found.
Not that He's really left us. He's just asking us to trust, to pursue, and to deepen our relationship with Him. Problem is, life has a tendency to get in the way of those things.
Filled with quotes and Scripture, this little book really packs a Spiritual punch. I've been at nearly every place David describes; I'm very familiar with the landscape of sudden tragedy, neglecting my time with God, and being a 'Lone Ranger Christian' (Dave puts that last one in nicer terms!).
But I've also found my way home, time and again. Searching for God when He disappears most definitely challenges my faith, and it isn't always fun and games; but I've found His promise to be true as well--You will find Me when you seek Me with all your heart.
Seek out this book. Buy multiple copies to give out. Mark in it, highlight it, and share it with those who have lost their way and desperately need to come home. I'm giving "If God Disappears" (hold on to your hat, Amy!) the golden bookmark...and adding a golden tassel--my highest mark for literary excellence.
Happy Reading!
Deena