Some of you are wanting to help promote the giveaway but are having trouble with it.


Copy and paste the code as it appears below and either put it in a post or (Best if done this way) into a link in your sidebar. Just copy and paste...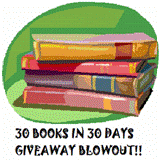 There you go. Don't forget to leave me a link at the ORIGINAL POST (not the giveaway post for the books) so you'll be entered into the gift certificate grand prize drawing.
Any questions?
Email me at thedeena63 at hotmail dot com
Happy Reading!
Deena