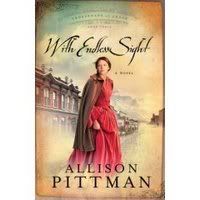 From the Back Cover:
Behind every story of loss is the promise of grace.…
Belleville, Illinois and Wyoming Territories, 1861
Born into a life of privilege, fourteen-year-old Belinda never questions her security, even as she leaves Illinois with her family to discover new adventures in the Oregon Territory. But when disaster falls, Belinda is left wounded, weak, and alone. Her faith in God gives her the only strength she knows in a harsh new world.
Belinda's journey takes her to a snow-covered mining camp and a red-roofed brothel in the Wyoming mountains, but not before she must spend a lonely winter with the man who took away the life she knew. Throughout the grief and hope of a strange land, Belinda must decide if her faith is big enough to allow her to forgive.
The satisfying conclusion to the Crossroads of Grace series, With Endless Sight offers a rich story of family, new beginnings, and the freedom that grace can bring.
My Review:
In this novel Pittman takes an old standby for historicals and puts a new twist in it.
While this is a story of Americans moving west and is set during the Civil War it is neither a wagon train saga nor a Civil War story. Belinda and her family are forced to move by circumstances that her father only reveals later.
However he decides that what little they have available for the trek west will be invested in an alternative to the popular and perhaps safer wagon trains. Therefore the travel takes place via train, steamboat and finally stagecoach until even more dire circumstances face Belinda and her cousin, Phoebe, who is traveling with the family.
Along the way Belinda begins to discover more about her own faith, the people around her and who she is. As a teenager these times of growing and discovering are already tumultuous for a young girl but events in Belinda's life make the year chronicled here even more so for her.
If you enjoy historicals from mid-nineteenth century America you'll likely enjoy this book. It is a refreshing departure from the time-tested Little House on the Prairie type stories that I have loved since childhood.
Read this novel to discover the curves thrown at Belinda in the midst of her family's journey and how these difficult times strengthen and stretch her faith and understanding of both herself and people she encounters.
Melissa (aka Forst_Rose @
Bibliophile's Retreat
)