When it comes to Bible studies, nobody writes them better than AMG! Here are two of the best in their "Following God" series that I've found extremely helpful lately: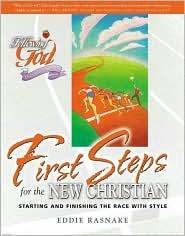 Are you a new believer, or involved in discipling new believers? "Following God: First Steps" is the perfect discipleship book for personal study, small group, or a mentoring relationship.
In "First Steps", you'll cover basic doctrines or teachings found in Scripture. You'll learn more about your new position in Christ, growing in your faith, and abiding in Christ.
I love the layout of the Following God studies...each week has five days of homework or personal study. Packed with Scripture, in each day's assignment you'll find references to the day's topic and then questions for practical application.
Sidebar boxes give handy definitions and references to look up. Pertinent quotes from the text are also highlighted in the margins, as well as 'did you know?' tidbits of information.
One of the keys to growth as a Christian is time spent with God. In "Following God: How to Develop a Quiet Time" you'll find practical guidance for and wisdom discussing the need for a time of solitude with God.
The layout of this book differs from the usual format. This particular study is designed over a 40 day period. Each day consists of a devotional reading and Scripture on a particular discipline in the life of a believer.
Some of the disciplines discussed include: The Principle of Pursuit, The Principle of Adoration, The Principle of Conviction and Confession, and The Principle of Thanksgiving.
Each day builds on itself until completion of the workbook, helping both the new and mature believer to establish a quiet time that is rich and meaningful. I highly recommend these two studies for anyone wanting a deeper walk with Christ.
I'm giving the "Following God" study series the golden bookmark for excellence and high recommendation to all who crave a deeper relationship in the Family of God.
Happy Reading!
Deena