Some of you may have been wondering, "Hey? Where are all the reviews?" At least, I HOPE you've been wondering!

Well, here at My Bookshelf, I write reviews for three reasons:

1) My love of books
2) My love of readers
3) My love of authors

And lately, I've been focused on that last reason. September was all about YOU, the reader, and thanking you for a marvelous 18 months of faithful support for my blog.

Beginning in October, it's going to be all about the author...one author in particular, each month: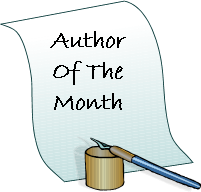 Each month I'll select an author I absolutely adore and believe in. One who isn't a household name like Karen Kingsbury or Jerry B. Jenkins...but who should be. An author who's books may be overshadowed in the huge publishing marketplace, and who's deserving of a peek...a glance...a purchase.
Each month, we'll have reviews, trivia contests, prizes, memes, and interviews...
maybe even a guest blog by the featured author.
But it's not just about the author. It's also about YOU, the reader.
What do I need from you?
1) I need your support. Blog about this new feature. Steal my logo and post it on your blog. Prizes will be awarded to those who do.
2) Buy the featured book. It will always be the most current published work. Buying books shows publishers we want more. And that is what "Author of the Month" is designed to do. To get us more great books from these amazingly talented men and women.
3) Enter the contests. I need to hear your voice, that you love this and want to help spread the word and learn about new authors.
4) Consider joining the cause. I can't help every single unsung author out there...you may know some yourself. Some who are gifted and talented but who aren't getting the recognition they need to keep pursuing their craft. Start your own Author of the Month and lets join forces!
So, that's what's been keeping me occupied these last few days. I've got authors lined up for October and November. If you're an author in need of a boost, contact me. I'll be glad to take a peek at your work. If you're a publicist or publisher representing an author who needs a boost, same thing...contact me.
In the meantime...I've got a lot of reading to catch up on! And thanks for your prayers regarding my health. I've got some healing to do, but God's on it. Love you all!
Happy Reading!
Deena